Austin, Texas, August 9th – Founderpath, the platform 6,500 bootstrapped B2B SaaS founders use to get capital, announced $145m in debt and equity funding to continue helping more B2B SaaS founders hit $10m in revenue without selling equity.

TechCrunch coverage here: Founderpath wants to help you grow with Founder Friendly debt financing
Founderpath chose to bypass traditional VC's and instead raised from a collection of top SaaS founders. These founders include:
Henry Schuck, Founder of ZoomInfo
Giles Palmer, Founder of Brandwatch (Acquired $450m)
Haroon Mokhtarzada, founder of Webs.com and Truebill (Acquired $1.3b)
Savneet Singh (Par Tech, CoVenture)
Meet more top SaaS founders at Founderpath's live event on Sept 1-2 in Austin Texas.
Founder500 almost sold out: See how many tickets are left here

The round was led by Coromandel Capital and Forbright Bank on the debt side ($8b AUM) and Singh Capital Partners (SCP) on the equity side.
SCP is a network of over 800 LP's who are public company SaaS executives, current or exited founders, and family offices . Earlier this year we started seeing pullback from equity investors in B2B SaaS and decided we needed to get into the non-dilutive capital space. After studying countless companies, it became clear that Founderpath is who we needed to get behind. Latka's ability to bring founders together and his charisma is what sealed the deal for us.

Manpreet Singh, CIO at Singh Capital Partners
These super angels are now resources for all Founderpath founders.
Founderpath Has Another $150m To Deploy to SaaS Founders
Last year, Founderpath was introduced to Coromandel Capital and partnered with them on a $50m facility:
We are excited about extending the partnership with Founderpath and adding Forbright into the facility, as the team has exhibited sophistication in expeditiously decisioning opportunities at favorable unit economics and without sacrificing quality.

Rob McGregor, Co-Founder and Managing Partner, Coromandel Capital.
Today, Founderpath is announcing that Coromandel has led and brought in Forbright Bank to extend the size of the Founderpath debt facility to $145m:
We are excited to partner with Founderpath's management team and look forward to supporting the company's continuing growth. Leveraging real-time API's that guide underwriting decisions, Founderpath provides customized capital solutions to B2B SaaS companies, while also offering valued portfolio management tools.

Chris Erb, Managing Director at Forbright Bank
Founderpath Charges Forward While VC Pulls Back
With access to traditional VC funding slowing and markets taking a hit, there has never been a better time for founders to explore non-dilutive financing.
We took $150k from Founderpath in August 2021 when we hit $50k in MRR to run experiments. The process was so fast, we took another $150k in October 2021. We were able to skip our seed round, save 20% equity, and grow ARR into the millions before closing our $9m Series A this month

Daniel Lang, CEO and Founder of Mangomint
Bootstrapped SaaS Founder Friendly Terms

The fintech platform enables SaaS founders to:
-Take up to 50% of their ARR in upfront cash today.
-Connect their stripe (or subscription system) and receive an offer in under 2 minutes.
-Unlock 48 month payback periods.
-Access capital as cheap as a 7% discount rate.
-Maintain 100% control of the company.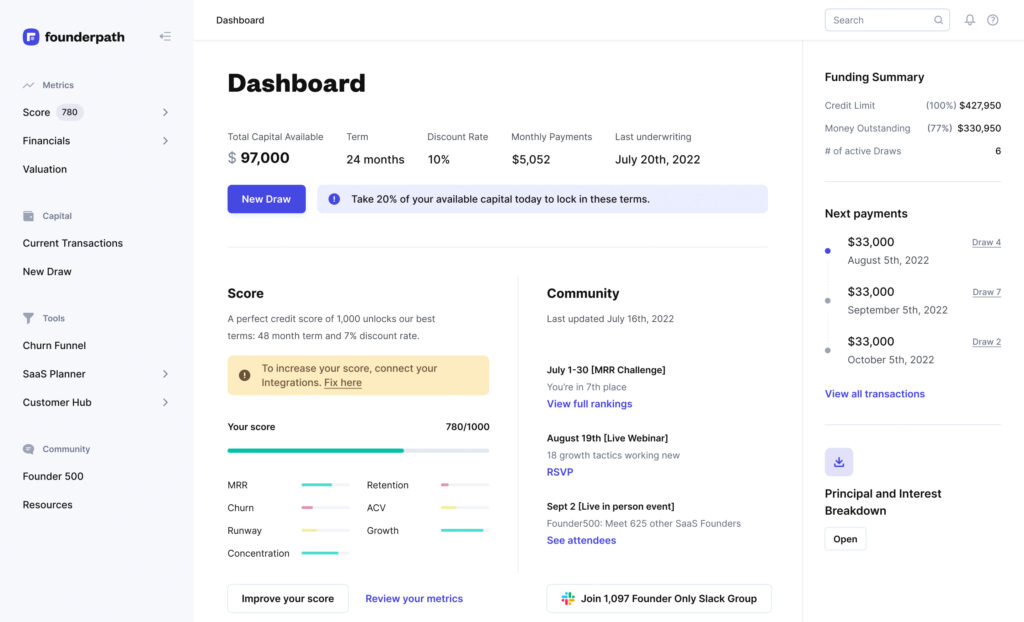 Unlike many of Founderpath's competitors, the company allows 12+ month payback periods, no prepayment penalties, and charges no fees or warrants.
Typical terms are $500,000 paid back on a 24 month term at a 7-12% discount rate. There are no other fees and money is wired overnight.
According to founder Nathan Latka the company has "deployed over $50m in capital over the last 12 months to 125 SaaS founders."
In addition, founders rely on free tools from Founderpath like their Valuation Calculator and close to 1,000 are attending their Founder500 event on September 1-2nd in Austin Texas.
Founderpath is focused on bootstrapped SaaS companies doing at least $10k in MRR, with the typical company profile doing between $1m and $5m in ARR. "We have no interest in doing $5m deals into companies with $10m+ in revenue.
There are better options for those founders. We will help 1,000 founders at an average deal size of $500k. Ultimately we measure success based off one metric: How many SaaS founders can we help hit $10m in revenue and keep 100% control," said Latka.
Looking for capital so you have more flexibility during this downturn? Get an offer in under 2 minutes by signing up today: www.founderpath.com
About Founderpath:
Founderpath (https://founderpath.com) was launched in 2020 as a way for bootstrapped SaaS founders to get capital without selling equity. The company integrates with Stripe, Recurly, Chargebee, Chargify, Profitwell, Plaid, and Quickbooks to analyze the strength of a SaaS company. The stronger the company, the more capital founders can take. The team is remote, built by bootstrappers, and funded by bootstrappers. See how much capital you could get by visiting Founderpath.com.
About Singh Capital:
Singh Capital Partners is a multifamily office that directs investments into venture capital, private equity, and real estate. SCP invests capital on behalf of Fortune 500 CXOs, unicorn founders, and operators and has executed investments in North America, Europe, and Asia.
About Coromandel Capital:
Coromandel (https://coromandelcapital.co/) provides flexible, non-dilutive growth capital via secured loans to FinTechs and specialty finance companies that may be too early or otherwise do not conform to the credit boxes of traditional financial intermediaries. A true partner and not a passive check, Coromandel permits its clients to earn better terms over time while providing operational advisory and outsourced capital markets, allowing management to focus on its business while helping it establish a track record prior to bringing in a low cost senior lender.
About Forbright Bank:
Forbright Bank (www.forbrightbank.com) is a full-service bank, commercial lender, and asset manager headquartered in Chevy Chase, Maryland. With approximately $8 billion of owned and managed assets, the Bank provides lending, banking and asset management services to clients across the United States. Its business banking group provides nationwide lending products, including asset based loans, working capital, warehouse lines of credit, term loans and forward loan purchase agreements to sophisticated investors and operators in FinTech, financial services, technology, and other industries.
Member FDIC. Forbright Bank is an equal housing lender and makes loans without regard to race, color, religion, national origin, sex, handicap, or familial status.
Learn more at: www.ForbrightBank.com
Media Contact:
Aaron Juda
Info@forbrightbank.com
301-299-8810